Elementor Pro comes with an awesome widget - Forms. With this you can create forms and style them with great easy. It also provide you the option to send email on form submission. You can also connect to many third party services like Active Campaign, Drip, Mailchimp etc.
Inspite of all these goodies, many users still misses the option to save form submission into database. But the good thing is that there are plugins available to fill this gap.
Form Vibes allows you to save Elementor Pro Form submission into DB (database).
It is a simple plug 'n' play plugin. Just install it on WordPress websites and it will start capturing form submissions.
To view the submissions, click on "Form Vibes" from WordPress admin menu and it will display all the submissions into tabular format.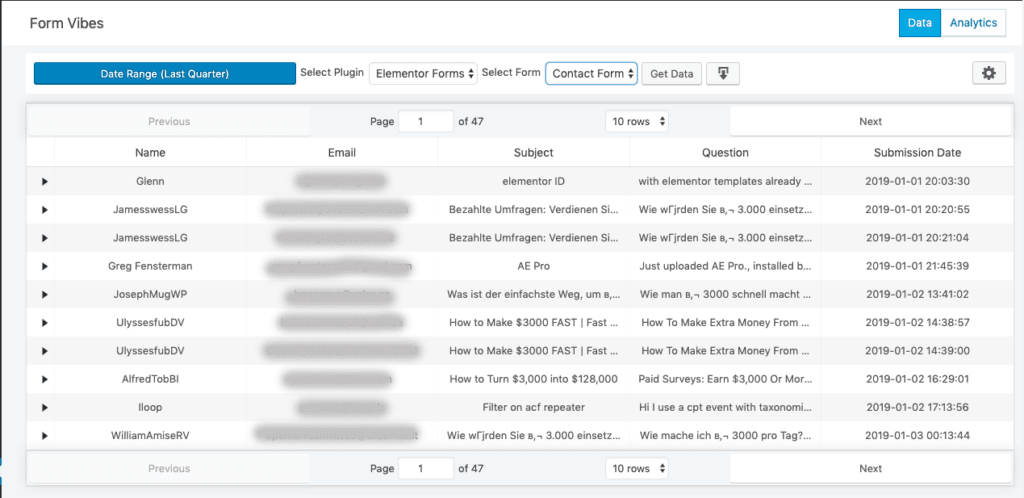 At the top of the table there is an Action Bar with some filters.
Date Range: Select the time period to filter the submissions.
Select Plugin: Just select Elementor. Although this article is only about Elementor but this plugin is not just limited to Elementor. It will also work with Contact Form 7 and Caldera Form. We will be adding integration for more forms soon.
Select Form: Each form submission is saved separately. Select the form and respective data will be populated in the table.
Field Visibility & Custom Labels
Click on the cog icon (⚙) at right end of action bar to view a new set of options. You can select which fields you want to display in the table. You can always see all the form fields just by expanding the row. Just click on the row and it will expand to display all form fields.
There you also get the option to set custom lables/alias in place of field slug.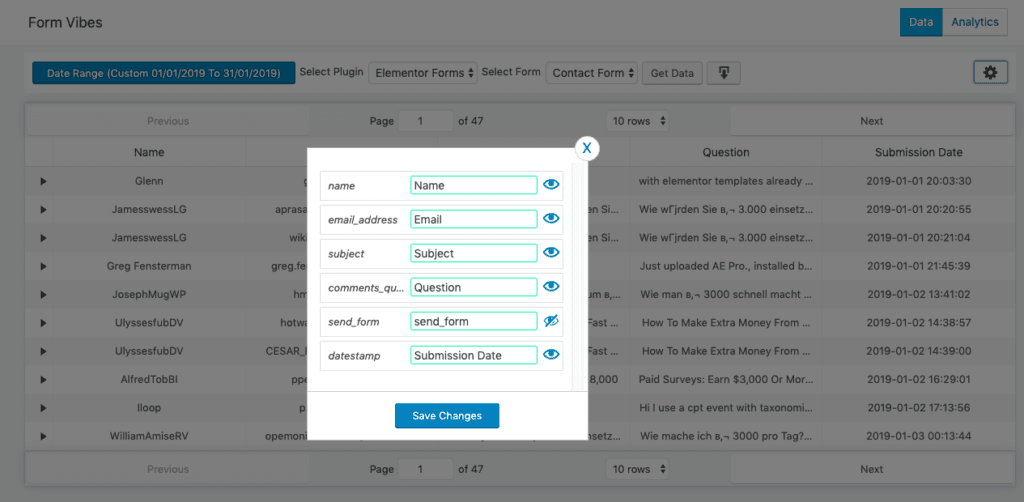 Date range presets and custom date range
Filter the form data by date range. Select date range using Presets or set your own custom date range.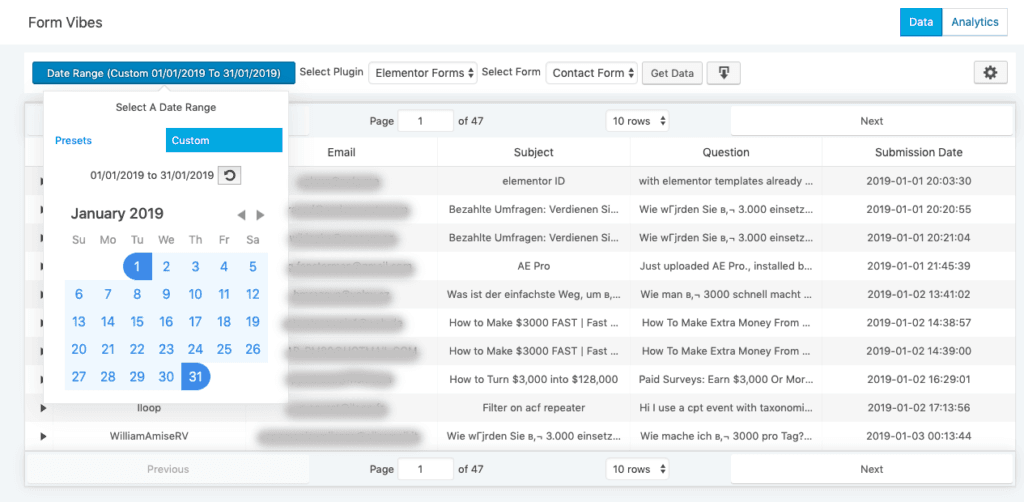 Export data into CSV file
Have you noticed the download icon in previous screenshot above? There where you can export your submissions in CSV files.
Graphical Reports
Who don't love to see their data in a nice graphical representation.
Well you can see your form's performance in graphs. Click on Form Vibes -> Analytics and you will see a bar chart displaying your form's submission frequency. Same filter set is also available while watching the graphs.
Let's start capturing Elementor Pro form submissions in database.